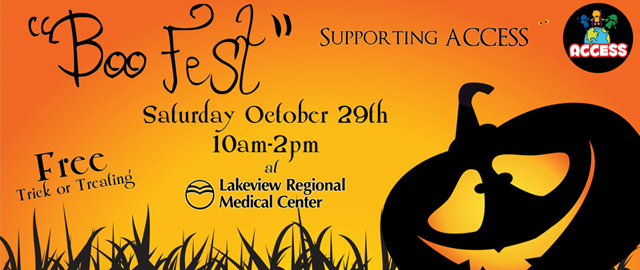 St. Tammany children of all abilities and their families are invited to the second annual BOO Fest, a "boo-tiful" Halloween trick-or-treat fundraiser to be held on Oct. 29 at Lakeview Regional Medical Center just south of Interstate 12.
The event, which will be held from 10 a.m. until 2 p.m., encourages trick-or-treaters to wear their favorite Halloween costume and participate in the BOO Fest costume contest. BOO Fest will be hosted by ACCESS (Adapting and Changing Children's Environments with Successful Solutions) in partnership with Northshore Families Helping Families
ACCESS is a charitable, nonprofit organization whose mission is to raise awareness and funds in support of families with children with disabilities with the aim of improving their quality of life. BOO Fest is but one of their annual fundraisers.